The OPEN STUDIOS WEEKEND is a chance to see dynamic  Spanish artists based in London. Since its origins in 2009, Spain NOW!'s mission has been to promote contemporary Spanish art in London:  this new initiative is one further step to highlighting important emerging artists and to making their presence known both at national and international levels.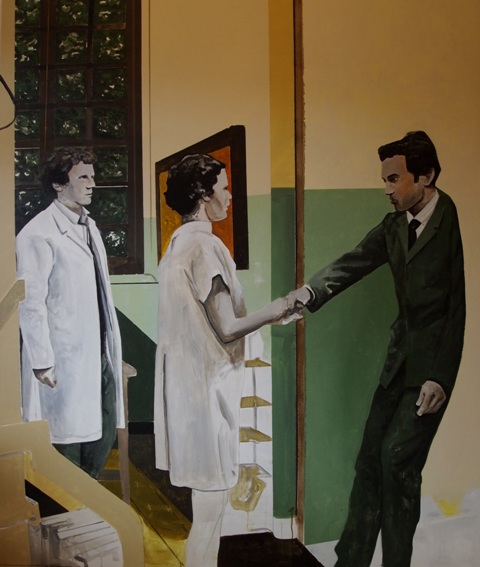 MIGUEL LAINO was born in southern Spain and has lived in London since 2001 where he completed a degree at Central St Martins College.
His work tends to be an interpretation of images from online and print media that he finds compelling at some level, without over-analyzing the reasons why they are of interest. This approach allows for a more spontaneous painting process that involves the subconscious more than the conceptual, and possibly allows for a greater degree of interpretation on the part of the viewer, by virtue of being less overtly prescriptive.
Artist: Miguel Laino
Venue: Access Web Only
"I've always been drawn to big cities. From early childhood I knew that I would end up in a multicultural urban environment. My work reflects my belief that contemporary art should  mirror contemporary life as the artist sees and lives it"
Interviews
The Art Circus Review
How did growing up in Spain affect how you paint now that you live in London?
I grew up in a very small town in Andalucia, steeped in a mixture of Roman Catholic mythology and local folklore and superstition. But I always felt like an outsider and was instinctively drawn to urban culture through American and British music, cinema and fashion. I suppose there is some reference to the austerity of the Spanish masters in my work, and the muted, earthy palate of the Andalucian countryside.
You previously studied fashion and worked with Alexander McQueen and Vivienne Westwood – how does this affect your painting now?
My fashion experience sometimes seems like something that happened to someone else a long time ago! Perhaps the most obvious remnant is my sustained interest in the human figure. Fashion was a good foundation for understanding that form. And contemporary art should reflect the world as it looks today – which inevitably includes the way people are clothed. But my interest has deepened beyond depicting style, to exploring the character of the subject. Read the whole interview
YJB Creative Leaders of the Future
Introduce yourself:
My name is Miguel Laino. I grew up in Andalucia, southern Spain, and came to London in 2001 to do a degree in Fashion Womenswear at Central St Martin's College. I went on to work with designers such as Alexander McQueen, Vivienne Westwood and Hussein Chalayan, but in 2008, after seeing the Georg Baselitz retrospective at The Royal Academy, I decided to commit myself to being a painter.
What kind of art do you produce?
My work is mainly figurative painting.
When did you realise you wanted to be an artist?
As a young child, I was always drawing and painting with watercolours, and had many art books of the Spanish masters such as Velazquez, Goya and Murillo. In my teens and twenties, I became more interested in fashion design.The realities of that industry did not appeal to me, and I rediscovered my passion for art and decided to make it my career.
More info:
http://www.saatchionline.com/profile/252257