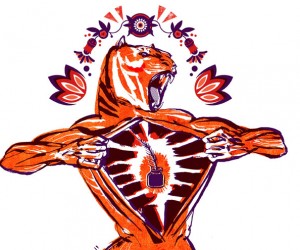 Spanish young poetry stands out for its variety and richness. The number of poets, publishing houses, festivals, performances and events shows that Spanish poetry is living a sparkling moment, with an increasing reach and interest.
Likewise, Spanish illustration and comic art is at a similar height: Spanish illustrators and comic artists are increasingly acknowledged and published abroad.
In a way, illustrators and poets share the same aim: representing with images aspects of reality that remain unnoticed for the rest of us and telling stories through panels or by combining words, stories that open the door to new, different perceptions of reality.
It is precisely through this selection of reality (a selection of what can be seen, an inquiry into the non-visible), and through the use of images on both illustration and poetry that the concept for this collaboration was born. Three poets and three illustrators have collaborated to create pieces where images and words become one: the illustrated shapes of words to come.
When: Tue, 22/11/2011
Event Times: 6:30pm
Venue: Spain NOW! Pop Up Space @ The Gallery Soho
Venue Details: 121-125 Charing Cross Road, WC2H 0EW
Read the interviews!
Check out their sites!
Podcast
Image Gallery